2nd TOMOCON Summer School Delft
1st – 3rd July 2019
TU Delft Science Centre, Delft, The Netherlands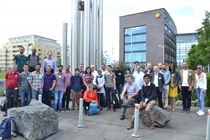 The 2nd TOMOCON Summer School successfully took place from
1st to 3rd July 2019 in Delft, The Netherlands. The event was organized by TU Delft together with HZDR. This year's Summer School focused on the topics of process tomography, data processing and innovation. Over 40 participants attended the event, including 15 ESRs from the TOMOCON project and
10 external students from TU Delft and other European universities.
During the three days, the participants enhanced their knowledge in process tomography, GPU programming, tomographic image reconstruction and human-machine interfaces. The third day was dedicated to a soft skills training in innovation offered by TU Delft Centre for Entrepreneurship with a focus on career development, patents, entrepreneurship and marketing.
During a Company Visit to Shell in Amsterdam, the students received an impression of the processes and the work life in a large energy company and conducted a practical workshop where they had to elaborate a research proposal for the control of an offshore oil-water swirl separator using tomography.
Highlights:
Keynote speeches on:

Tomography in non-destructive testing (Dr. Matthias Goldammer, Siemens AG, Germany)
Optical and chemical species tomography (Prof. Hugh McCann, University of Edinburgh, UK)
Visualization and human-machine interfaces (Prof. Dr. Morten Fjeld, Chalmers University of Technology, Sweden)

Interactive Company Visit to TOMOCON industrial partner Shell in Amsterdam
Experts came from:
Academic institutions/companies of the TOMOCON Consortium
Invited scientists and lecturers from the academic and private sectors